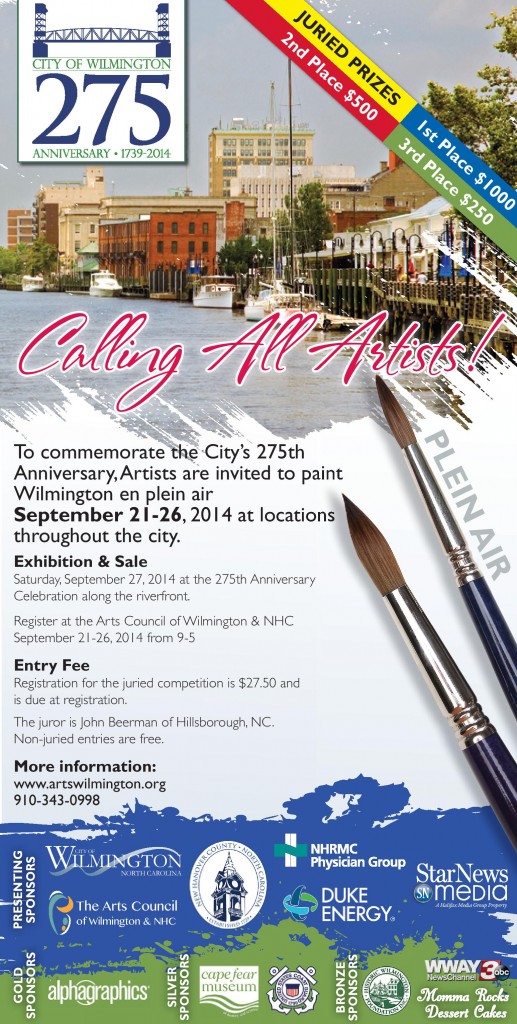 Wilmington Plein Air to "Make" History
275 Plein Air Registration Form
To commemorate the City of Wilmington's 275th anniversary, artists from all over North Carolina will meet in Wilmington for one week in September for a citywide plein air event.
Easels will dot our historic cityscape as artists create original artwork of Wilmington's historic landscape and buildings.
Plein Air (open air) paintings are executed outdoors.  Both painter and subject must be outdoors, and photographs are not used.  The event is open to any artist who uses oil, watercolor, acrylic, pastels, pencil, or pen/ink.
WHEN & WHERE:
The paint out will be held from September 21-26, 2014 within Wilmington city limits.  The artwork will be available for purchase in an open air gallery during the 275th commemorative program, September 27, 10-2 p.m. in and around the Coast Guard parking lot on Water St. in downtown Wilmington.  Thalian Hall Ballroom will serve as the rain location.
ENTRY FEES:
The entry fee for the juried competition is $27.50.  There is no fee for non-juried participation.
AWARDS:
Cash prizes will be awarded to: Best of Show – $1000; Second Place – $500; and Third Place – $250.
THE JUROR:
John Beerman is a painter whose work has been exhibited nationally and internationally. He attended the Skowhegan School of Painting and Sculpture and earned a BFA from the Rhode Island School of Design. Beerman has received numerous awards and fellowships including the Pollack-Krasner Foundation Award and the Yaddo Artist Colony Fellowship. His work is represented in many museums including The Metropolitan Museum of Art, New York; the Museum of Fine Arts, Houston; and the Whitney Museum of American Art, New York. He has completed several public commissions including a mural in the Craftsteak restaurant at the MGM Grand, Las Vegas and recently an eighty-five foot mural in the I.M. Pei designed Milstein Family Heart Center, New York Presbyterian Hospital in New York City.  John Beerman lives in Hillsborough, North Carolina.